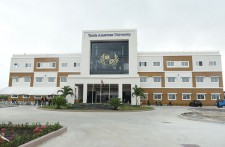 South America's Renowned Medical University enrolls Students for its September Intake
East Bank Demerara, Guyana, May 27, 2017 (Newswire.com) - Texila American University, incepted in 2010, with its new campus opened in Guyana is one among the top ranked Medical Schools in the Caribbean. The University is currently enrolling students for its September Intake for the Healthcare Programs – Doctor of Medicine (MD), Bachelor of Science in Nursing (BSN) and Bachelors in Pharmacy (B Pharm).
With its new campus in place and plans to expand operation, Texila American University (TAU) is eyeing international accreditation for its medical program. TAU is looking for the Caribbean Accreditation Authority for Education in Medicine and other Health Professions (CAAM-HP) in Barbados for its accreditation.
TAU offers a variety of courses in the field of healthcare education. Courses include Medicine, Nursing & Pharmacy. With the university's sustained Quality and Student Care, it is turning out to be a landmark and preferred destination for healthcare studies for student's community across the globe.
TAU is poised to be a TOP Caribbean Medical School. So far the Texila American University Consortium has enrolled 4000+ students from 70+ countries for its healthcare programs and other blended learning programs in various streams. The University has 100% pass ratio in few Local Medical Council Exams and the alumni are practicing as Doctors world-wide.
To Know more information, register http://www.texilaamericanuniversity.com/newswire-doctor-medicine.html
Source: Texila American University
Share: