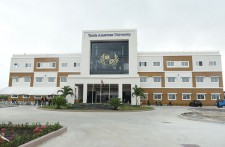 Texila is the first Caribbean University to have 1000+ bed clinical rotation facilities in its locale
EAST BANK DEMERARA, Guyana, July 6, 2017 (Newswire.com) - Texila American University has affiliated with some of the most renowned Hospitals in Guyana including the Georgetown Public Health Corporation (GPHC) to support its medical students for their Clinical Rotations.
Georgetown Public Health Corporation (GPHC) is a government-run hospital with more than 25 years of experience in training the doctors and has over 600-bed and additional 400-bed clinical facilities available for the student training throughout the country.
Other Hospitals in Guyana that are affiliated with the University include:
• New Amsterdam Hospital
• St. Joseph Mercy Hospital
• Woodlands Hospital
• West Demerara Regional Hospital
"It's our pleasure be associated with renowned hospitals in the country so that the medical students would find it hassle-free to pursue their clinical trainings. Texila also has plans to build its own cutting edge multi-speciality training hospital in the near future which will not only cater to clinical rotations but also advanced medical studies such as residency and fellowship training while providing specialized tertiary level health care to the people of Guyana and the Caribbean", said Mr. Saju Bhaskar, the founder and president of Texila American University.
Apart from the hospitals in Guyana, Texila American University has also collaborated with renowned hospitals in USA for the aspirants who wish to practice in the USA.
About Texila American University (TAU)
• TAU is a top-ranked Caribbean Medical School
• Offers world-class Doctor of Medicine program with American Standard Curriculum in partnership with the Ponce Health Sciences University (PHSU)
• Alumni undertaking Medical Residency in the USA
• Alumni are also practicing as Licensed Physicians globally in many countries like India, Nigeria, Zambia etc.
To learn more about the University, please visit: http://www.texilaamericanuniversity.com/newswire-doctor-medicine.html
Source: Texila American University
Share: