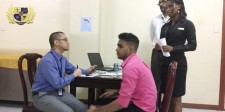 The Free Healthy Service for a Healthy Life
East Bank Demerara, Guyana, August 11, 2017 (Newswire.com) - Texila American University recently organized a Free Health Check-up at Princess Hotel Georgetown, Guyana on 28th July 2017.
Texila is one among the best Medical Schools conducting frequent Free Health check-ups, blood donation drives and other medical camps for better analyzing the community and its issues.
More than 60 patients were screened for various health related issues and were treated free of charge. Free general health check-ups, blood group testing and RH typing, were among the many tests that were organized as a part of the event.
"It was a great opportunity for us to serve the community,"
- shared one of the student Volunteers of Texila American University.
Various conditions including malnutrition, jaundice and other disorders were treated. The event also served as a healthcare counselling where people were given simple alternatives and first aid preventive tips and measures to protect health.
Talking to the media, Dr. Anand, the Vice chancellor of Texila American University quoted that,
"Healthy students can build a strong society and we focus to mould the healthcare professionals who can serve their community in the best way possible."
By rendering selfless service to the community, Texila American University has created another stepping stone for its Success in the upcoming years. Few more medical camps and healthcare events are in queue for the upcoming months.
Key factors about Texila American University
TAU is a top-ranked Caribbean Medical School
Offers world-class Doctor of Medicine program with Clinical Rotations in USA
TAU Alumni doing Medical Residency in the USA in various specializations in various states
TAU Alumni also practicing as Licensed Physicians globally in many countries like India, Nigeria, Zambia etc.
To learn more about Texila American University and to apply, please visit:
http://www.texilaamericanuniversity.com/newswire-doctor-medicine.html
Source: www.tauedu.org
Share: