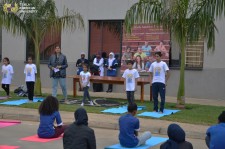 LUSAKA, Zambia, July 3, 2018 (Newswire.com) - Texila American University-Zambia commemorated International Yoga Day under their monthly talk series Themed: "Yoga for Harmony and Peace." This month, the lecture gained more momentum due to the excitement that was shown by the students and a large number of participants from various professions.
The program started with a half an hour yoga drill with renowned Naturopathic and Lifestyle consultant, Dr.Sharanya D. Students and participants from various walks of life participated with great enthusiasm. The yoga drill was followed by the expert lecture from Dr. Sharanya.
Prof. Ajay Poddar, Vice Chancellor, Texila American University welcomed the Chief Guest, Shri. S.S. Barwal, Second Secretary (Consular and Culture) from High Commission of India, Lusaka, Zambia and the yoga expert Dr. Sharanya D by presenting a bouquet of flowers.
The Vice-Chancellor of the University gave the welcome address to the audience in which he advised the participants to take Yoga as a path to a Healthier life and Brain booster. "Yoga improves your flexibility and toning of the whole body through various body stretching," he said.
The Chief Speaker enlightened the participants through his expert talk as he explained the history and importance associated with International Yoga Day. He stressed that Yoga training is a must for a stress-free life. He also advised that Yoga can be done anywhere and at any time, whether at home or a park, and the most important thing is that it does not even require any expensive accessories or equipment to practice Yoga.
The Vice-Chancellor felicitated the chief guest and speaker by presenting mementos.
The talk concluded by a vote of Thanks by Prof. (Dr.) Sunil Verma, Convener Texila Knowledge Talk Series. Prof. Verma thanked everyone for making the talk successful and also announced that next month there will be a talk on Management under the series.
About Texila American University Zambia
Tier-1 University in Zambia
Approved by Ministry of Higher Education Authority, Zambia (HEA) and Institutional member of International Council for Open and Distance Education (ICDE)
Programs offered in Zambia Campus - Bachelor of Medicine and Bachelor of Surgery (MBChB), Pharmacy, Public Health
Source: Texila American University-Zambia
Share: