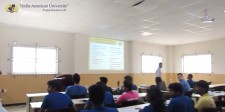 Texila American University introduces Technology Oriented Smart Classroom Education for its healthcare programs offered in the Guyana campus
East Bank Demerara, Guyana, June 7, 2017 (Newswire.com) - Smart Classroom is a teaching mode that fosters the opportunities for learning by integrating technology, such as computers, learning management system, digital library, audience response technology and other amenities for better learning and teaching.
This learning model aims to help students engage with the material that they're learning and create a foundational context for this new knowledge so they're more prepared to apply it at the bedside.
Texila has 100% Pass Ratio in Local Medical Council Exams (India, Nigeria, USA etc.)

Texila
The ongoing changes in health care delivery had resulted in the reformation of educational content and methods of training medical education. The learning modules are designed and developed by the Internationally Certified faculties of the University and are delivered in the smart classrooms.
All classrooms and labs are fitted with Elmos, LCD projectors, TVs, and for the upcoming semesters, clickers are being introduced so that students can be quizzed in classes for spot assessment and preparedness.
Talking to the media, Mr. S.P. Saju Bhaskar said: "We hope our students will benefit from the new approach of learning through smart classrooms. We believe that these kinds of interactive learning would enable the future physicians to better equip with the current trends and technologies to succeed in their field."
Texila American University started its operations in Guyana in 2010. With its high-quality education and sustained student satisfaction, today the University has one of the best campuses in Guyana with the state-of-art infrastructure and ultra-modern facilities. The campus has witnessed students from over 50 countries for its Doctor of Medicine, Bachelor of Science in Nursing and Bachelors in Pharmacy programs.
Today, TAU is among the top-ranked Caribbean Medical Schools, catering to the needs of the student community from across the globe.
To learn more about the University and to apply, please visit: http://www.texilaamericanuniversity.com/newswire-doctor-medicine.html
Source: www.tauedu.org
Share: