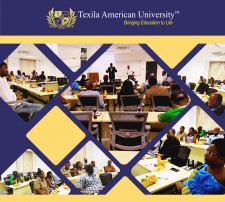 Building the Future
LUSAKA, Zambia , October 13, 2017 (Newswire.com) - Texila American University, Zambia, a leader in career-focused, On Campus, online and blended education designed to address the skills gap in Zambia, organized and event for the students who had registered for the Student Ambassador Program, which was comprised of student leaders who would represent Texila to prospective students and serve as mentors for current and future students. Nearly 17 students participated in the event.
The Student Ambassador Program rendered a great opportunity for the students in developing leadership and communication skills with the option to serve as role models, advocates and peer advisors to fellow students.
Ambassadors educate students about the many resources available on campus and encourage involvement and engagement in campus life. Ambassadors work closely with the college's offices and campus initiatives including Student Activities & Development, the Diversity Council and Student Support Services.
"I look forward to hearing from students about their experiences in Texila American University, Zambia programs, Open and honest communication among TAU's leadership, faculty, and students will ensure that our community continues to grow and develop in the upcoming years," quoted Mr. Ajay Poddar, the Vice Chancellor of Texila American University, Zambia.
"I was looking for a School to do my Masters in Information Technology which would allow me to proceed with my day to day curricula activities as a lecturer. And nothing felt as good as Texila giving me an opportunity to learn under block based, going module by module with a block each month. I am glad to be an ambassador, communicating to the people of this opportunity for them to proceed to highest levels of education with Texila. I benefited from a colleague who informed me about Texila and I also want to ensure that others benefit from my Information about Texila American University", said Mr. David Simpemba, one of the current students of the Texila American University.
Key factors about Texila American University Zambia (TAU-Z)
A wing of Texila American University Consortium (TAU – Z)
Approved by Ministry of Higher Education Authority, Zambia (HEA) and Institutional member of International Council for Open and Distance Education (ICDE)
One of the best ever campuses in Zambia with the state-of-the-art infrastructure
Texila American University Consortium has operations in over 6 countries and students from 80 countries pursuing its various programs with Doctor of medicine being the Flagship program
To know more about Texila American University Zambia and to apply, visit:
https://www.tau.edu.zm
Source: Texila American University
Share: