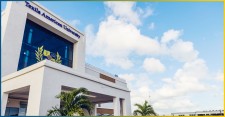 An inspiring initiative by the University to Cater the needs of the Aspiring students
East Bank Demerara, Guyana, May 31, 2017 (Newswire.com) - Texila American University, South America's fastest-growing medical school, hosted a Live Campus Tour, "CampCast," on Facebook on 25th May, 2017, at 11:30 a.m., (EST) which made it easy for the students to witness the University's Campus from anywhere in just a click.
Texila is a pioneer in hosting a LIVE campus tour. The event was a quick walk through of the state-of-the-art campus in Guyana, the laboratories, class rooms, library and other student amenities.
Today, Georgetown, Guyana, is turning out to be a "Preferred Destination for Medical Education" — Texila American University has its major share in this transformation and people say Texila is a trendsetter of this trend.
"Everyone needs a strong start and a helping hand in their professional lives. We are proud to provide the resources to the aspirants that will help them reach their fullest potential in their chosen area of study. We train our students to give up their best from the beginning and I would appreciate their confidence in shining in their chosen field. This campus tour was meant for the aspirants to nourish their dream of becoming healthcare professionals – be it a doctor, nurse or a phramacist", quoted Mr.Saju Bhaskar, the Founder & President of Texila American University.
Way back in 2010, the university started its operations in Guyana with a rented space in a small way, but with its high-quality education and sustained student satisfaction, today the campus has witnessed students from over 50 countries, and Texila has its own newly built campus, which was witnessed by His Excellency Dr. Mossess V. Nagamotoo, the Honourable Prime Minister of Guyana.
Today, TAU is among the top-ranked Caribbean Medical Schools, catering the needs of the student community from across the globe. The University offers Doctor of Medicine, Bachelor of Science in Nursing and Bachelors in Pharmacy in its campus.
To watch the Facebook Live Campus Tour Hosted by Texila American University, visit, http://bit.ly/2r9Zapm
To learn more about the University and to apply, please visit: http://www.texilaamericanuniversity.com/newswire-doctor-medicine.html
Source: www.tauedu.org
Share: