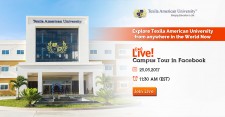 South America's Fastest-Growing Medical University is Coming Live for You
East Bank Demerara, Guyana, May 24, 2017 (Newswire.com) - Texila American University, South America's fastest-growing medical school, is hosting a Live Campus Tour, "CampCast," on Facebook on 25th May, 2017, at 11:30 a.m., (EST) which makes it easy for the students to witness the University's Live Campus tour from any part of the globe in just a click.
This is the first time in the history that a campus tour is being telecasted LIVE. Today, Georgetown, Guyana, is turning out to be a "Preferred Destination for Medical Education" — Texila American University has its major share in this transformation and people say Texila is a trendsetter of this trend.
Witness the University's Live Campus Tour from any part of the world

Texila
Way back in 2010, the university started its operations in Guyana with a rented space in a small way, but with its high-quality education and sustained student satisfaction, today the campus has witnessed students from over 50 countries, and Texila has its own newly built campus, which was inaugurated by His Excellency Dr. Mossess V. Nagamotoo, the Honourable President of Guyana.
TAU is among the top-ranked Caribbean Medical Schools. The University's visionary approach and quality-linked policies have pulled the university to the limelight.
To join the Live CampCast, visit: https://www.facebook.com/texilaamericanuniversity/videos/1443226405714834/
To learn more about the University, please visit: http://www.texilaamericanuniversity.com/newswire-doctor-medicine.html
Source: www.tauedu.org
Share: