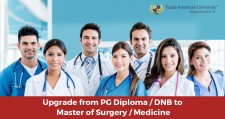 SHARJAH, United Arab Emirates, February 5, 2018 (Newswire.com) - ​​Texila American University in academic partnership with the IAU-UNESCO listed University of Central Nicaragua (UCN) offers an Upgradation Program for Doctors, without compromising on their current practice.
Doctors who have passed or failed in their DNB exam, completed FCPS/FRCP/MRCP or any Royal College (UK) Examinations theory section can credit transfer into a Master of Medicine/ Master of Surgery examination based qualification.
The University offers doctors the flexibility, resources and expertise to help them achieve their educational goals and gain a rewarding career.
Doctors pursuing this program get an opportunity to get trained for the Part 1 Royal College exams. Their performance will be assessed by the Program consultants and the students will assisted throughout the program by dedicated Student Mentor support.
Doctors can specialize in areas like Anaesthesiology, Family Medicine, Obstetrics and Gynaecology, Internal Medicine, General Surgery and in all clinical specializations. Upon completion of the program, doctors would be awarded a worldwide degree that is recognized by WHO.
To know more about the program and to apply visit: http://pg.tauedu.org/pg-upgradation.html
Key facts about Texila American University (TAU)
TAU is a top-ranked Caribbean Medical School
The university offers Postgraduate medicine programs, Doctor of Medicine (MD / MBBS), Pharmacy and Nursing program
Texila American University is a Consortium of Universities and Campuses Strategically Spread across Countries and Continents
Source: Texila American University
Share: