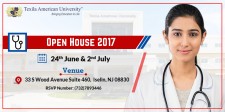 New Jersey, USA, June 20, 2017 (Newswire.com) - Texila American University, one of the top-ranked Medical Schools in Guyana organises the Open House for the medical aspirants USA. As a part of the event, the prospect students will have a good opportunity to hear an overview of academic programs available as well as to learn about the full range of student support services rendered by the University.
The Open House details are as follows:
• Date: 24th June 2017 & 2nd July 2017
• Venue: 33 S Wood Avenue Suite 460, Iselin, NJ 08830
• WhatsApp Number: +1 732 789 3446
The University Staff will be on hand to give tours, answer questions and to guide new students in the process. Special Scholarships will be provided to the students who confirm admissions at the event. ​
Talking to the media, the Founder & President Mr.S.P. Saju Bhaskar said that "Texila is the Only university in the world to have signed a Curriculum licensing agreement with an American Medical University for Usage of American Curriculum, and management of Clinical rotation of Texila Students in USA"
Incepted in 2010, Texila American University has expanded its program verticals and today, TAU houses students from over 40 countries in the campus.
• TAU offers Doctor of Medicine (MD) with the option to pursue clinical Rotations in USA
• The courses are trained by Internationally Certified Faculties from USA, UK, India and Australian Universities
Today, TAU is among the top-ranked Caribbean Medical Schools, catering the needs of the student community from across the globe.
To learn more about the University and to apply, please visit: http://www.texilaamericanuniversity.com/newswire-doctor-medicine.html
Source: www.tauedu.org
Share: