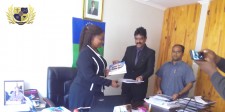 Now Texila Nursing students can pursue Clinical Placements in any hospitals in the district.
Lusaka, Zambia, August 2, 2017 (Newswire.com) - A Memorandum of Understanding (MoU) was signed between Texila American University Zambia (TAU-Z) and Chilanga District Health Office (DHO) in Zambia on 19th June 2017 (Monday) for the clinical placements of the Texila Nursing Students.
The MOU was signed by Dr. Vijayakumar, the Assistant Registrar of Texila American University Zambia and Dr. Leah Namonje, the Medical Officer of Chilanga District Health Office in the presence of Dr. Sathish Kumar and others from the DHO.
Talking to the media, Dr. Vijayakumar quoted that "This partnership will enhance our Nursing students to undergo hands-on training in leading hospitals in the district. This is the first initiative from Texila American University and in the future, we are planning to partner with more District offices and large hospitals to enhance the student experiences for the healthcare programs."
In every Semester, the nursing students should undergo 4 to 6 weeks of Clinical placements for hands-on training.This affiliation will make it easy and convenient for the students to practice in any leading hospital in Chilanga for the Clinical Placements upon completion of the courseware.
About Texila American University

To learn more about Texila American University and to apply, please visit http://www.texilaamericanuniversity.com/newswire-doctor-medicine.html.
Source: Texila American University
Share: