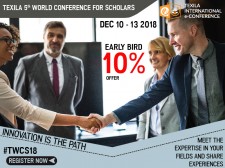 Early Bird Offer
Georgetown, Guyana, September 7, 2018 (Newswire.com) - Texila World Conference for Scholars (TWCS) is known for its host of well-known presentation, scholars sharing mind-blowing research ideas and industry experts which have already benefited thousands of online participants since 2014. This year TWCS is going to take place between 10-13 December 2018 all over the globe on the theme of "Transformation: The Creative Potential of Interdisciplinary and Multidisciplinary Knowledge Exchange".
It is a four-day conference with a sole objective to support every individual who involved in TWCS. It will have quick bites of Keynotes, Presentation, interactive Q&A, Polling and many value-added sessions. Join us for the latest in Agriculture, Medicine, Education, and 13 other sectors.
This conference will have 16+ speakers joining the event from multiple backgrounds, industries from different countries and several delegates from various corporations. All these dignitaries will share their knowledge and experience on a single platform that will benefit every participate coming from the diverse background.
The price of registration passes ranges from $62 to $134 depending upon the type of pass.
TWCS will work as a viable and knowledge sharing platform for the participants where they will gain the most updated tips and trends in respective fields. Attendants will have an opportunity to directly interact with the subject matter experts for guidance.
Texila World Conference for Scholars focuses on offering a clear understanding of the trends of Agriculture, Medicine, Education, and many other sectors. The event also helps to sustain and stay ahead of the research and global requirements.

The early bird registration for TWCS Conference is On and will be available until September 30, 2018. To register or find out more about TWCS, please visit: https://twcs.texilaconference.org/register.html
Source: Texila World Conference for Scholars
Share: